weekly chase #1
This monday, I'm gonna try something new.
In order to make myself a weeee bit more motivated and hold myself accountable, I'm going to partake in the weekly chase! This linkup party is put on by the wonderful Melissa at the blog Live, Love, & Run
The game plan looks a little something like this (from Melissa's blog!)
1. Every Monday, bloggers will post at least one (1) goal that s/he would like to reach that week. It can be for anything – weight loss, eating habits, training goals, organizing your home, finishing a project, whatever. Your choice.
2. Include the Weekly Chase badge on the post to help you link up to other bloggers that are chasing down goals for the week. I've made four badges for you to choose from (so any fellas that want to join in can) and I've included the code for each.
3. Visit my Weekly Chase post every Monday so you can link up your post! This gives you the chance to peek in on other bloggers and form some awesome support systems.
After the initial Weekly Chase post, make sure you include how you did on your goal for the previous week. The whole goal of this project is to get a wicked support system rolling and to help lift each other up!
4. Tweet about your goals with the hashtag #weeklychase to see when others have posted, to fill everyone in on your accomplishments, or just to get a little extra push!
Now that the informative session is out of the way, let's move on to the goals!
1. Listen to my body more, especially being able to recognize when I've worked it a bit too much. I've started to get better but could definitely use a little more work.
2. Stop my crazy bottomless pit action…yeah..not pretty. My nickname should be snack-monster. Definitely feeling like a mix between the Cookie Monster and Oscar the grouch lately.
(source)
(source)
….which leads me to number three.
3. Be more positive!! This is a BIG one. I've fallen off the optimism train and need to jump back on.
There ya have it, that's what I'm gonna be working on this week. Oh yeah, and giving myself something to recover from (fitness-wise) haha
So let's recap some of my fitness ventures from this past week and my initial experiences with Insanity..
Like I said before, the Insanity  fit test didn't kill me. Neither did the second/third day!
But I also decided it would be a good idea to run 7 miles on Saturday and well, that (and the fact that I got off work later than I had anticipated) meant no day four of insanity. whoops.
I did, however, wake up Sunday morning at 10 (!!) which literally NEVER happens. I finally got to have 11 glorious hours of sleep…even if I have to thank the fact that I might be developing some kind of sickness/exhaustion from the long busy workday for that little bit of extra sleep..I'll take it.
And that is probably why I was up at the crack of dawn this morning.
Being awake at 6 am when you really wanted to sleep until at least 7 sucks. No sugar coating it, it just sucks.
(source)
Ohhhh Monday, you kill me.
On another random note. Is it just me, or do the Olympics make you feel like you're a lazy slob? Okay, maybe not a slob… but lazy. I decided to watch rowing this morning, which magically inspired me to get over my fears of running past 9am and I ventured out into the 11:30 90 degree heat.
Yep, I'm nuts. But I somehow managed to get 3 and a half miles done. Suuuup Texas heat ain't got nothin' on me.
Even though I pretty much wanted to die by the time I got home. My shoes felt like they were on fire?  hahah I'm guessing the heat from the sidewalk was causing some damage to my nikes, susequently burning the hell out of my feet. No fun. But it was a good run and I worked on my awkward tan lines.
Tonight, I'm going to continue to watch the Olympics and hope these fantastic individuals inspire me to keep it goin' tomorrow.
Or I'll just watch for this: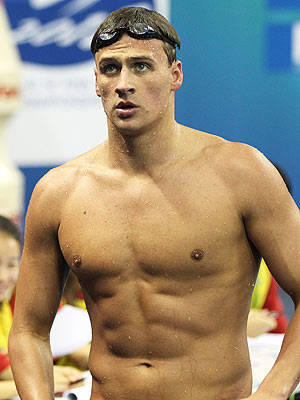 (source)
I knew there was another reason why I watched these..
Have a good night!